Pandabeswar coal mine area near Durgapur witnessed major clashes between two factions of Trinamool Congress. Situated barely at a distance of 31 Km from Durgapur, Pandabeswar is a coal mine area defamed as coal mafia belt. Fighting between various groups coal mafia to control illegal coal mining are almost an everyday event here.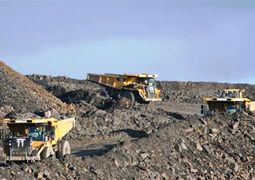 Trouble started at the Khottadihi Open Cast Project (OCP) of Pandebeswar under the Eastern Coalfields Limited (ECL) on 25th November, Sunday, after a coal-loaded dumper of Eastern Coalfields Limited (ECL) collided with another engaged by a private agency. The dumper operators stopped work. The management authority of ECL called the unions to solve the impasse. But during the meeting scuffle started between two INTTUC (affiliated trade union wing of Trinamool) leaders. Mr. Uttam Mondal, the INTTUC secretary in Khottadihi, and Mr. Siddhartha Rana, the block vice-president of the party in Jamuria alleged that those who don't belong to the mining job are getting access to the mine pit. They were pointing to the other factions of the Trinamool. They scuffled, threw stones, fired at each other, and hurled bombs, triggering tension in the Khottadihi Open-Cast Project (OCP) area of Pandabeswar. Two members of INTTUC, Mr. Uttam Mondal and Mr. Rambhumi Singh were injured and sent to ECL's Central Hospital in Kalla, near Asansol.
A contingent of police led by the Durgapur ACP S Sylvan Murugan reached the area and used a lathi-charge to take control of the situation. The Asansol-Durgapur Commissioner of Police Ajay Nand told reporters some small bombs were recovered from the mine area and defused. "We have initiated a case and launched a hunt for the absconders," he said.
The trouble, according to ECL's Pandabeswar Area CGM, Mr. Manoj Kumar, "Caused the mine to incur loss of production since 5.30 p.m. till it was resolved at 12.30 p.m. today. We have lodged an FIR against the outrageous mob, which destroyed some colliery property." The Khottadihi OCP under the ECL produces about 4,000 tons of coal per day.
Likes
(

0

)
Dislikes
(

0

)