The much awaited election results of Durgapur Municipal Corporation has been declared today morning along with five other civic bodies of west Bengal. After the last years' assembly poll, this has been the first major test for both Trinamool and Left Front. So all eyes were on Durgapur Dhupguri, Haldia, Panskura, Nalhati and the Coopers' Camp notified area where election result was scheduled to be out today. In fact this six civic body poll election result was the centre of attraction in all national news channels.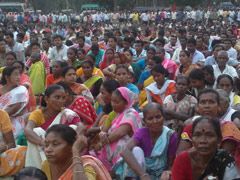 Trinamool Congress has been the outright winner in Durgapur, much in line with the expectations after last year's assembly poll win where Trinamool Congress bagged both the assembly seats of Durgapur. The Left Front has been at the helm in the Durgapur Municipality Corporation since inception in 1997. In all the last three election of Durgapur Municipality, Left Front was the outright winner. But this year, buoyed by their performance in last year's assembly poll, Trinamool Congress (TMC) fought alone and won in 29 of the 43 wards. Left Front managed 11 seats. Congress, BJP and Others bagged 1 seat each. Much to the surprise of many, BJP won their first ever seat in Durgapur Municipality. But in comparison with the last years' assembly poll result, there has been a gain of 1 seat for the Left and a loss of 4 seats for the Trinamool Congress.
The result of haldia and Cooper's camp has been a great blow for Trinamool Congress undoubtedly. In Haldia the win of the Left has been surprised even the most staunch supporter of CPI(M).
Apurba Mukherjee, the legislative assembly member from Durgapur, who won won from ward no. 22, in this municipality election is slated to be the next Mayor of Durgapur. It will be a real test for him. Time will say how well can he mange his dual responsibility.
Likes
(

1

)
Dislikes
(

3

)