On Wednesday night a truck driver and his associate is reported to have been beaten at Angadpur of Durgapur. News agencies reported that the two has been beaten up severely by the members of a local club for denying paying a hefty donation for Basanti Puja. The two has to be admitted to hospital.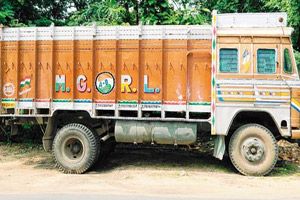 Report says that on Wednesday evening, some members of a TMC backed local club of Angadpur were collecting donations from truck drivers in the name of Basanti Puja by stopping the trucks that were plying on the road to Angadpur Industrial area. One of the truck driver, Raju Singh and his co-staff Sunil Rai denied giving the donation. On this, both Singh and Rai were badly beaten up by the men with stick.
When a mobile van of the Asansol-Durgapur police reached the place, the men who were members of the local club fled away. Police and local people took the injured two to the hospital. After being released on Thursday, the truck driver Raju Singh lodged a complaint in Coke Oven police station of Durgapur
Local people also alleged that the members of the TMC sympathizing local club were indeed collecting donations forcefully for the past few days. The members of the club are members and supporters of Trinamool, said the local peoples and a faction of Trinamool Congress. The local leader of TMC, Ashok Dutta is alleged to have been involved with the incident, said locals.
However, TMC and INTTUC leader Ashok Dutta denied any such allegations and said that no one of the party is involved with the incident. He added that he demands immediate investigation by the police and stern action against those involved with the incident.
CITU leader and former legislator, Biprendu Chakroborty termed the incident as unwanted and called the leader of the ruling party to be more vigilant so as to stop this kind of forceful extortion bids.
Likes
(

0

)
Dislikes
(

0

)