Two of the three absconding directors of Axes Multi Developers of Durgapur surrendered in Durgapur court on Saturday. Judge has ordered 14 day jail custody of the two axes directors, Katyayan Bhattacharyya and Satyabrata Basu. However Saraswati Basu, the third director and wife of director Satyabrata Basu is still on the run.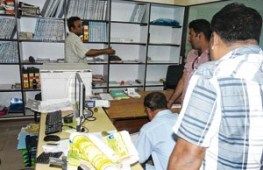 It may be recalled that following a court complain by Andal resident Ajit Das on 29th April 2013, ACJM of Durgapur Court directed the police to investigating charges of cheating and fraudulent activities against Axes Group.
Immediately after getting the court directives, Durgapur police on 29th night raided the resident of one of its director, Katyayan Bhattacharyya, but Bhattacharyya managed to flee along with the other two directors. Police then raided the City Centre office of Axes the very next day and seized several important documents related to company's activity.
In two phases Durgapur police arrested ten Axes group officials and interrogating them came to know that Axes Multi Developers Ltd., which started as a real estate company of Durgapur, in last two to three years diversified into media, resort, hotel business and mobilizing funds. The interrogating team said that the company is reported to have collected around Rs 50 crore in the past six years on the false promise allotting plots.
Police however failed to track the three absconding directors in spite of an all out effort. On 19th June Durgapur court ordered that the three absconding directors of Axes group must surrender on or before 4th July; failing which their assets will be seized.
Asansol-Durgapur Police Commissionerate (East), Sunil Yadav, intimated that steps to seize the assets of the company has been initiated. The 49 bank accounts of the company with different banks have already been seized by the police.
After remaining in hideout for about two and half months two of the Axes group directors surrendered on 20th July in Durgapur court on their own. But the third director is still at large.
One may recall that Axes group did not featured on the list of 52 fund-mobilizing companies' Durgapur mayor Apurba Mukherjee had sent to the district magistrate demanding immediate steps after the Saradha scam erupted.
Ironically, Durgapur Mayor, Apurba Mukherjee has often been seen sharing the dais with directors of Axes. Axes director Katyayan Bhattacharyya was seen felicitating mayor Mukherjee when he was elected the mayor.
Likes
(

0

)
Dislikes
(

0

)