Trouble broke out on Tuesday (August 21) at the National Institute of Technology (NIT) in Durgapur where squabble over the issue of whether new comers should face ragging or not took an ugly turn and one student was stabbed by his classmate.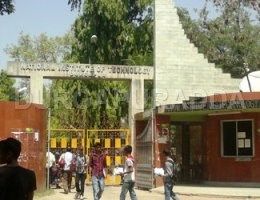 A second-year electronics engineering student of NIT, Durgapur, allegedly stabbed his batchmate Tarun Kumar Sharma repeatedly in his hostel room on Tuesday night, unable to take taunts and casteist remarks any longer.
Sources said Kushal Kumar Meena, 22, who has been arrested and charged with attempt to murder, had become the butt of taunts among other students after he opted out of ragging in his first year and was put in the "zone-out" category by his seniors.
Students in the NIT who participate in the ragging process are put in the "zone- in" category and are helped by seniors, but those who opt out, belong to the group of "zone-out" and are looked down upon and are not even consider a member of the NIT student's family. They become laughing stock.
Meena, said to be polite and shy was the only student in his batch who belonged to the "zone out" category. "Since he opted out of ragging, his seniors and even batchmate used to taunt him a lot," a student said.
Tuesday night, biotechnology student Tarun Kumar Sharma came to Meena's room (205) in hostel number one – where second year students stay – along with two other batchmates.
"They kept on taunting Meena for being a zone out. They also made some casteist remarks at him. They humiliated him for opting out of ragging. An altercation ensued between Meena and the others. Meena who was reading an article on his laptop, suddenly took a fruit knife kept on the table and stabbed Sharma, repeatedly. The others fled," a roommate of Meena said.
Both Sharma and Meena hails from Baran district of Rajasthan but did not know each other before coming to NIT.
Ragging is banned in NIT's as in other institutes following a Supreme Court directive. The NIT has a special anti-ragging committee to look into complaints. 20 students were suspended in 2009 by the NIT on charges of ragging.
Hostel warden M K Mandal rushed to the hostel room after being informed by other students. "We immediately took him to hospital and informed police," said Mr. Mandal.
Sharma has been admitted to the Mission Hospital in Durgapur with cuts and gashes in his abdomen, chest and throat. Surgeon Bhaskar Dhar who is treating him said Sharma's condition was stable after he operated on Sharma yesterday evening.
"The main injury is in the boy's abdomen. The knife has perforated his large intestine and narrowly escaped the kidney. We had to open his abdomen to carry out operation," said Dr. Dhar.
Meena, who has been remanded in judicial custody till August 28, said: "Sharma and some other students used to taunt me regularly. I could not take the torture anymore and stabbed him."
"Sharma and some other students used to taunt me regularly as I had refused to accept ragging. They used to taunt me for my looks and cast. I could not take the torture any more, lost control and stabbed him with a fruit knife," said Meena in the lock-up of the court of the additional chief judicial magistrate of Durgapur yesterday.
NIT registrar Colonel P S Sandhu said" "The college disciplinary committee will inquire into the incident and submit its report to the director soon. We have informed the matter to the parents of both the students in Rajasthan. Surveillance by Anti-Ragging Committee has been stepped up. The police will also carry out their investigation."
Sunil Yadav, the additional deputy commissioner of police (east) said: "The accused student was arrested on the basis of a complaint we received from the NIT. He has been charged with attempt to murder, which is a non-bailable offence.
Likes
(

0

)
Dislikes
(

0

)