Mysterious death of a second-year student of National Institute of Technology (NIT) Durgapur yesterday (27th September) created a sense of disbelief and surprise among students.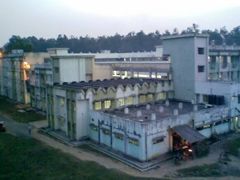 The dead body of Vijay Kumar Rai (21), the second-year biotechnology student who hailed from Fatehpur in Uttar Pradesh was found in between Hostel number 1 and 2 in NIT Durgapur campus. The body was spotted with his face down by the hostel inmates at around 7.30 am yesterday. There was dried blood near his mouth and his hands were folded.
Two of Vijay's roommates, Anand Kumar and Ravi Kumar informed that Vijay was extremely fond of singing and was a part of the "Music Club" of NIT. They further added that Vijay even went to the music club on Thursday night.
A section of Rai's classmates complains of ragging and said Vijay was pushed off the roof of the four-storeyed hostel after he refused to sing despite being told to do so by some fourth-year students.
The NIT authorities have however denied the allegation of ragging. Although NIT registrar, MR. P.S. Sandhu said that they are inquiring as to whether there was any incident of scuffle inside the campus premises on Thursday.
Police said they had started a case of unnatural death. The body has been sent to Durgapur sub-divisional hospital for post-mortem and subsequently it will be sent to Burdwan Medical College for Forensic test.
Police sources said that under most likelihood the death has occurred due to "falling from height" but said that the cause of the death can be confirmed only after receiving post-mortem and forensic report.
The roof of the NIT hostel has three-foot-high walls. Sources said it was unlikely that Rai had fallen off accidentally. His classmates said Rai could not have committed suicide as there was no abnormality in his behavior and was having a good repute as well.
Vijay's classmates have demanded that investigation must take place to find out the truth. They also mentioned that one must not forget about the an earlier incident in NIT Durgapur campus, when a second-year electronics engineering student of NIT Durgapur, allegedly stabbed his batchmate in his hostel room on 21st August night, unable to take taunts and casteist remarks any longer.
In a recent list prepared by the United Grant Commission (UGC), NIT Durgapur has been placed third where the menace of ragging continues to haunt the newcomers.
Likes
(

15

)
Dislikes
(

3

)