Four days have passed and Asansol-Durgapur police is yet to arrest any person linked with the murder of Dilip Sarkar, former CPM MLA of Baraboni, who was murdered on Sunday, 9th June, near his Burnpur residence.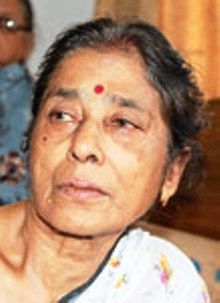 Sefali Sarkar, the widow of the slain CPM leader Dilip Sarkar has demanded a CBI inquiry into his murder. She said police had colluded with Trinamool leaders to falsely allege that Sarkar, a Burnpur resident, had links with women trafficking rackets. Mrs. Sefali Sarkar has said that she is in consultation with the experts of law and taking their advices as to how she can proceed with her demand of a CBI enquiry.
CPM has supported the demand of the widow of the slain leader. However, CPM is not officially demanding a CBI enquiry on the matter as of now. Burdwan district secretary of CPM, Mr. Amal Haldar said that the party is supporting the demand of the deceased leader, whole-heatedly.
State agricultural minister and local MLA of Asanol, Mr. Malay Ghatak from Trinamool Congress has said that the investigation is in its primary stage and it would be a hasty decision to ask for a CBI enquiry. However one must not forget, that the same minister within a day of the murder hinted towards infighting within the CPM as the cause of the murder of Mr. Sarkar.
Widow of the Dilip Sarkar, complained that the way in which the ministers and leaders of Trinamool Congress is falsely alleging about the links of the slain leader with women trafficking and trying to tarnish the image of her husband, is an attempt to dictate investigation and hide the culprits, who are all from Trinamool Congress. She said that she also feels that the police will not be able to make much headway into the murder because of political pressure from the ruling party.
Mrs. Sarkar also pointed to the fact that the way in which police, within a day of the murder of the former CPM MLA has started giving opinion before the media that the murder was the fallout of a "personal grudge" and apolitical, without even arresting any one, puts into doubt about the future of the investigation.
Meanwhile, CPM has planned to organize a condolence meeting of the former leader at a ground near his Burnpur residence on 17th June, Monday. District CPM leaders even hinted that from that meeting only it will be decided to organize a state wide agitation in demand of arresting the culprits.
Likes
(

0

)
Dislikes
(

0

)