The widowed wife of slain former CPM legislator Dilip Sarkar yesterday filed a criminal defamation suit against Trinamool MP Mukul Roy for his defamatory remark that a police complaint of trafficking had been lodged against the CPM leader four years ago.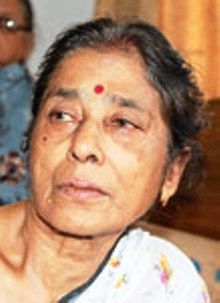 "I have filed a defamation case against Mukul Roy in the Asansol additional chief judicial magistrate's courts for him comments that have tarnished the image of my husband Dilip Sarkar. I have sought evidence in support of his comments but he never replied or withdrew his statements. I am hurt and so, decided to take legal steps," Dilip Sarkar's wife Sefali, 60 said.
Trinamool All India general secretary Mukul Roy could not be contacted for his comments on the matter.
On June 9, former CPM MLA Dilip Sarkar was shot dead in an incident of broad day-light shooting by four motor cycle borne miscreants at the Puranhaat area of Burnpur in Asansol. Three months have passed since the incident occurred, but police has not been able to crack the case and even no one has been arrested so far.
On July 5, Sefali Sarkar had sent a Roy a legal notice seeking evidence in support of his comments at a news conference in Kolkata. The notice had even urged Roy to withdraw his comments if there was no evidence.
"Roy received the notice but we have not got any communication from him till date. He also did not withdraw his comments. So we moved court and the case have been accepted," said Amitava Mukherjee, Sefali's lawyer and former CPM MLA from Hirapur in Asansol. Amitava Mukherjee also said they have sought compensation as well as strict punishment for Roy.
"We have not only pleaded for exemplary punishment for Roy for making such baseless remarks but also sought monetary compensation," said Mukherjee
If found guilty, Roy can be punished with simple imprisonment for up to two years, with or without fine.
Police had said that are having no information of any trafficking case against the slain CPM leader.
"We have no information that a case of woman trafficking had been lodged against Sarkar with any police station in Asansol or Durgapur," Ajay Nand, the then commissioner of Asansol Durgapur police had said earlier.
Likes
(

0

)
Dislikes
(

0

)