Work at the proposed Aerotropolis site at Andal near Durgapur has again been put on hold by the agitating landowners. From November 2005, when Bengal Aerotropolis Project Limited first conceived the project in the region, it has time and again ran into bumpy roads. On a number of occasion in the past work at the project site has been stalled by the agitating landowning farmers.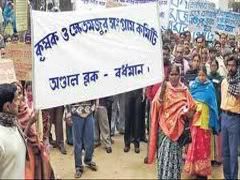 This time the landowners of approximately 192 acres are demanding a higher compensation sighting the reason that their lands are just beside the National Highway and valuation of their lands cannot be taken at par with other lands of the project area. The agitating landowners even resisted the vehicles of the project officials when they went to inaugurate a cancer detection centre at Andal Panchayat office.
On July 14th 2011, when the promoters of the project gave up the quest for final tranche of 144 acres of land that was yet to be acquired, it was thought that the proposed project which is all set to change the face of the entire region has crossed its last hurdle. Now, once again the project future seems to have faced a resistive wall.
CEO of the project Mr. Subrata Pal is however quite optimistic that this hurdle will also be crossed without much difficulty. He asked representatives of the agitating landowners to come to their office at City Centre of Durgapur for constructive talk and to submit their demand in writing. Six representatives of the agitating landowners met the officials of BAPL at their City Centre office of Durgapur and placed their exact demand in writing. These representatives are also optimistic that their demands will be addressed with logic and humane attitude.
Likes
(

0

)
Dislikes
(

0

)