Work at the upcoming water-treatment plant of Essar Oil Ltd in Durgapur, where work was stalled due to Trinamool backed agitation from 19th May got resumed yesterday. After Essar Oil decided to reinstate the guard who was sacked last week, Trinamool activists led by Kebu Chatterjee, lifted the agitation and allowed work to resume.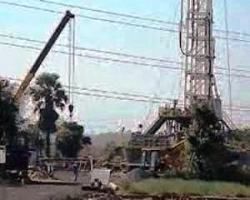 The move by Essar Oil, coming a day after industries minister Partha Chatterjee said, investors should "win hearts" of locals and hire workers from among the locals is seen as a move by the energy major to avoid further clash with the ruling party.
Sources said Essar officials yesterday directed the private agency that had sacked the guard, Anwarul Midda to take him back at the Kanksa site of the project. The private agency, ISCS, has been entrusted with the job of supplying guards to Essar. The private agency however refused to comment on the issue.
"The agency that supplies guards to us has withdrawn the suspension of Midda. Work at the plant resumed today. We will look into the villagers' other demands," said Essar spokesperson Rabin Ghosh from Mumbai.
Over 60 villagers led by local Trinamool leader Kebu Chatterjee had on Sunday stalled construction work of the water-treatment plant at one of the project site of Essar Oil in Kanksa block, over Midda's sacking.
Kebu Chatterjee, the local Trinamool leader however, threatened to stall work again if the villagers' other demands, such as laying metalled roads and erecting electric poles, were not fulfilled immediately.
Burdwan district magistrate O.S. Meena said he had asked villagers around Durgapur to submit their demands to a panel headed by the block development officer of Kanksa.
Likes
(

1

)
Dislikes
(

0

)