Jai Balaji Industries of Durgapur is in news once again and this time too for labour related problems. Around hundred workers of Jai Balaji Industries demonstrated yesterday, in front of the factory gate at Durgapur's Lenin Sarani complaining of non-receipt of salary payment for the last three months.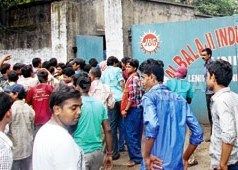 The demonstrating workers demanded that the company must immediately pay out their last three months due salary. They also demanded that production of the factory have to be started immediately.
Within an hour of the start of demonstration, a large police contingent from Coke Oven police station arrived and requested the agitating workers to lift the demonstration. However, the agitating workers didn't agree and said that demonstration will be lifted only after getting assurance from the management of the company.
After that, police officers went inside the factory and had a talk with the management representatives present within the factory premises. Police officers then informed the demonstrating workers that the factory authority have assured that the due salary of the workers will be paid within Friday. But as per as restarting of production is concerned, the management failed to give any assurance because of raw material shortage.
Yesterday at around 9 in the morning hundreds of Jai Balaji workers started agitating outside the main gate of the plant. At that time around six executives of the Jai Balaji unit that manufactures ingot were present. The workers alleged that, the five hundred odd workers of the Jai Balaji's ingot manufacturing unit have not received their monthly salary for the last three months. The workers also complained that the management has stopped production in the unit for the last three months.
The agitating workers said that they are fearing, management of Jai Balaji Industries might have the intention to close the down the factory. Mr. Gourango Chatterjee, one of the Jai Balaji worker spoke to the media on behalf of the agitating workers and said: "Earlier also Jai Balaji management failed to pay their monthly salary on time. In fact management of the factory have made it a routine to delay salary of the workers. To protest this act of the management of Jai Balaji authority, we have gathered here forgetting our party colours."
One of the higher executive of the Jai Balaji unit, Mr. Ajay Pandey said that he have informed the higher authority about the present scenario of the plant.
Likes
(

0

)
Dislikes
(

0

)