In a shocking incident, a 45-year-old man allegedly raped his own 17-year old daughter before killing her in the Kashimira area of Uttar Pradesh. Report suggests that the father not only raped his daughter but also made his friend brutalize her and even went to the extent of forcing his friends to rape the girl, apparently "to teach her a lesson".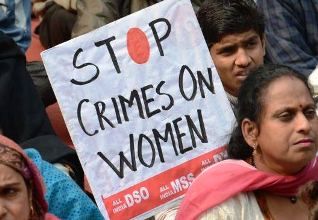 After the girl's body was recovered from the jungles of Dachkulpada in Kashimira, where she was murdered on October 31, an autopsy was conducted. The report confirms that the girl was sexually assaulted before being strangled but it refutes the father's claim to the police that she was pregnant.
The police have arrested the accused, along with his friend, who also raped the minor girl before her murder. Both the accused have confessed to their crime, the police said. The arrested accused has been identified as Ramesh Rajbhar and Shiv Chandra, alias Raju. Rajbhar hails from Sonapur village of Gajipur district, UP, whereas Chandra lives in the Daachkulpada area of Kashimira.
The victim was the eldest among three siblings. Four months ago, she eloped with her 19-year-old neighbour from Komalpur in Ghazipur. After a wedding in a temple, the couple had been living at Uttan in Bhayander (W). When the girl secretly started calling up her mother, the father got the wind of it and managed to get her Bhayander address.
Two weeks ago, he came to the city and traced her to Uttan. He, along with a friend, who lived at Dachkulpada Road in Kashimira, went to the girl's home and tried to force her to return to Uttar Pradesh. When she refused to listen to him, her father and his friend dragged her to the jungles of Dachkulpada, the police said.
There, the police said, the father raped the girl "to teach her a lesson" and then made his friend to brutalize her, while he watched. After the friend was done with the act, the father forced him to brutalize his daughter again, the police added. Fearing that the girl might report them to the police, the two strangled her with a dupatta, the police added.
The crime came to light after the father, in a drunken stupor, told a waiter at a Bhayander hotel about the rape and killing. Investigating Officer Vilas Mate said they were gathering the clothes the accused wore while committing the crime. The police have still not been able to trace the girl's boyfriend, a labourer, who apparently fled when the accused first visited their Uttan home.
The accused were remanded to police custody till November 15.
Likes
(

0

)
Dislikes
(

0

)