Mukutmanipur is undoubtedly one of the most popular picnic spot of West Bengal. But of late, it has become a popular yet somewhat an offbeat tourist destination, extremely ideal for having a peaceful weekend amidst the tranquility of nature. Situated in the Bankura district at a distance of about 110 Km from the industrial town of Durgapur, Mukutmanipur is an ideal weekend picnic spot and a great tourist destination, for all those weary mind and body who wish to escape from the busy humdrum of the city life. Mukutmanipur is perhaps the most ideal weekend gateway both for picnic or spending a day or two for the people of Durgapur. As Mukutmanipur is easily accessible from Durgapur and can be reached within 3 hours of comfortable road journey, it is undoubtedly the perfect destination for ultimate relaxation for the people of Durgapur.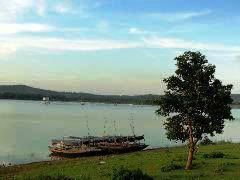 Where is Mukutmanipur?
Mukutmanipur is just a small hamlet town in the Bankura district of West Bengal. It is located close to the Jharkhand border at the confluence of the Kangsabati and Kumari rivers. Bankura, the district town is just 55 Km away and the industrial hub of Bengal, Durgapur is just about 110 Km away from Mukutmanipur.
About Mukutmanipur
Mukutmanipur is the place where the second biggest earth dam of India and as well as Asia is located. The picture that comes to the mind, when one thinks of Mukutmanipur is that of the large lake formed by the dam near the confluence of Kangsabati and Kumari river. The 10.8 Km long man-made mud-banked fresh water dam that canalises Kangshabati and Kumari rivers into the three drought affected districts of Bankura, Purulia and Midnapore for irrigation in the summer months is the heart Mukutmanipur. One side of the lake is rocky and draws the border between Bengal and Bihar, while the other is dotted with green patches, which is a part of the Bangopalpur Reserve Forest. The 11Km long and 38 m high dam has a solid concrete road with wide pavements which is ideal for taking a evening stroll. Permissions are to be procured for entering the dam with your own vehicle.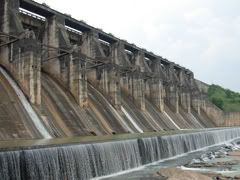 An escape to the serenity of nature is what describes Mukutmanipur perfectly. With verdant hills and forests surrounding a huge picturesque water body, Mukutmanipur is the ideal place to spend a day or two relaxing and rejuvenating far away from the crowded and busy city life. This popular weekend picnic spot which becomes over crowded during winter months and new year is a nice place to spend a day or two, thanks to the development of the roads and some nice resorts in the area.
The natural beauty of the place with an incredibly beautiful lake created by the dam, nestled among thickly forested hillocks is enough to mesmerize you and you can spend hours simply gazing at the blue waters of the lake or taking a stroll on the dam or boating on the lake water.
The 86-sq-m giant lake with deep blue water, formed by the Kangsabati and Kumari river water reservoir provides an irresistible temptation to take a boat ride. Boating into some of the verdant green islands of varying size in the lake, including one with a deer park is an awesome experience and gives a unique chance of being alone with nature in a lonely island. A stroll along the pavement with your loved ones is indeed a wonderful experience that helps to relax and also allows enjoying the beauty of the lake and the small rocky hills dotting the landscape. Watching sunrise or sunset with your beloved by your side will definitely be a memory to cherish lifelong. Even the most ordinary person will wish to be a poet in such romantic environment.
Mukutmanipur Sightseeing
Mukutmanipur is one such place where there are not many sightseeing spots around. Actually its a place to seek solitude and spend a calm weekend in the midst of nature. Some of the places around Mukutmanipur which are worthy of a visit are given below:
Bangopalpur Reserve Forest
Situated at a distance of about 2 Km from the lake is the Bangopalpur Reserve Forest, which is the home to a variety of flora and fauna. The forest is not much dense and you can spot some rare species of animals here. If you are nature lover and love to shoot with your camera, then you will find so many things to keep you camera busy.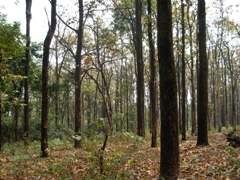 Parashnath Hill
At a distance of about 6 Km from the lake is the Parasnath hill which is the highest peak of the area at 1350 m above sea level. Considered to be one of the most important pilgrimage centre of the Jains, it is also the place of worship of Lord Shiva and Lord vishnu.
The name of the hill was derived from the name of the 23rd Jain Tirthankara, Parasnath. According to Jain literature, it is the place where twenty of the twenty-four Jain Tirthankaras found salvation from life. Apart from its religious importance, it is also a good view point of the dam and its surroundings.
Ambikanagar
Within a distance of about 5 Km from the lake is the relics of the ancient town of Ambikanagar. The old name ofAmbikanagar was Amainagar and the place was ruled by king named Anatadhabole and latar on by King Raicharan Dhabal Deb, a revolutionary freedom fighter. Latar on it grew as a cultural centre for ancient Jains and an important Jain pilgrimage destination. However, the devastating flood of 1898 caused havoc and reduced this place into a mere deserted hamlet. Remnants of the royal palace remind visitors of its golden past.
The temple of Ambika Devi at Ambikanagar is worthy of a visit. The idol's eyes are bright and prominent and looking at it for few minutes creates a sense of fear in mind. Ambikanagar is also famous for some unique kind of handicrafts made by the local tribals using grass and bamboo stick. You must not leave this opportunity to buy some of this handicraft as a souvenir.
Banpukuria Deer Park
Located in an island of the lake, you need to hire a boat to reach the deer park. There is a fair bit of certainty that you will have glimpses of this beautiful animal. If you are lucky enough, you may spot some rarest of seasonal bird species, particularly during winter months. So you must not forget to carry your camera. Reaching the park by a boat is also an experience in itself which you will definitely enjoy.
Open Air Temple
The open air temple is another unique place in the dam of Mukutmanipur which can be reached by hiring a boat. There is a Shiva linga, a statue of the Jain god Parshwanath Swami and a statue of a bull at the location, which was excavated during the construction of the dam. Two stone statues of Vishnu were also found at the same site time and are exhibited on the Tila. The rocky surface on which it stands is known as Parshwanath Tila. The place is considered sacred for both Hindus and Jains.
How to Reach Mukutmanipur from Durgapur?
The best way of reaching Mukutmanipur from Durgapur is by public bus or hiring a vehicle of your choice or by your own vehicle.
From the bus stand at Durgapur Railway Station and City Centre bus stand, direct buses are available that will take you to Mukutmanipur in three and half hours. But if you wish to travel by your own vehicle, you will reach Mukutmanipur within three hours through some good road and enjoying the verdant greenery along the road side.
You first need to reach Barjora by crossing the Durgapur Barrage. At Barjora don't take the right turn, but proceed straight to reach Beliatore. At Beliatore take the right turn and proceed straight to Bankura. Just before entering the Bankura Town, opt for the Bankura Bypass to reach Mukutmanipur via Khatra crossing.
Where to Stay at Mukutmanipur?
Though Mukutmanipur does not have numerous staying options, but the place is not short of staying options, including some luxurious resorts as well.
The Peerless Resort – Undoubtedly, the best staying option of Mukutmanipur is this lakeside resort, which is run and owned by the reputed group Peerless. The serenity and greenery combined with resort's excellent service and great food makes it an ideal place to relax and rejuvenate and your stay an unforgettable experience. The Peerless Resort comprises of 3 twin bedded rooms, 12 couple bedded rooms, 2 three bedded family rooms and 2 four bedded family rooms a multi-cuisine restaurant & bar and a banquet hall that seats 100 guests. All the rooms are air-conditioned, very well furnished with the best of facilities and with attached bath. It's the best place for honeymooners as well as families. Buffet breakfast is usually given complementary.
For reservation please contact over phone at – 9932787993 / 9434052430 / 033- 44003900.
Sonajhuri Prakriti Bhraman Kendra – The second best option for staying at Mukutmanipur is Sonajhuri Prakriti Bhraman Kendra of West Bengal Forest Development Corporation (WBFDC). This nature resort situated at the midway of the hilltop amidst forest, just beside the Kangsabati Dam provides a unique staying option. Both A.C and non A.C rooms with best of the facilities are available here. For booking accommodations in this resort, contact WBFDC office at Muchipara of Durgapu between 11 am to 3.30 pm. One can also avail the option of online booking at – http://www.wbfdc.com/Booking_Display1.asp?RecordID=12
Pancha Pally Tourist Complex – It is a good budget staying option. For booking, contact at – 9434590399, 9932800931.
Kangsabati Bhavan – Run by the Irrigation and Water Supply Dept, Govt of W Bengal. This guest house has 8 rooms and for booking contact at its head office at Writer's Building, Kolkata.
Hotel Aparajita – It is another budget staying option of Mukutmanipur. For booking, contact at – 9433447466 / 03243-252355.
Hotel Amrapali – This cheap and budget staying option can be booked at – 03243-253208.
Hotel GreenPark – This is another cheap staying option of Mukutmanipur, which can be booked over phone at – 03243-253379/253212.
Likes
(

5

)
Dislikes
(

2

)