Maithonis one of the most visited and most popular picnic destinations for the people of Durgapur. Situated on Barakar River, a tributary of River Damodar in the Dhanbad district of Jharkhand, bordering the state of West Bengal, this picturesque place is an ideal weekend gateway for the people of Durgapur and the adjoining area as well. Situated at a distance of about 70 Km from the industrial town of Durgapur, Maithon is a place where visitors flock in large number for picnicking or for having a quite holiday in a peaceful and serene surroundings.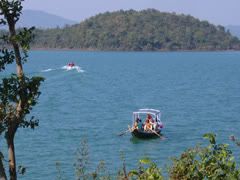 About Maithon Dam
The dam at Maithon built on River Barakar, the lake formed due to the dam; temple of Goddess Kalyaneshwari is the main attraction of the place. A casual walk on the dam, or a boat ride in the lake to the distant islands, or paying a visit Kalyaneshwari temple nearby, Maithon has in store everything to make it a place worth a visit.
The Maithon Dam is15,712 ft long and 165 ft. high and is specially designed for flood control. It has a unique underground power station which is first of its kind in S.E. Asia and generates 60000 KW of electricity. Normal daily visitors does not have access to the underground power station, but Prior permission can be acquired for visiting the powerhouse. The permits are issued from the office of the Assistant Public Relations Officer and guide services are also made available. The lake at Maithon spreading over an area of 65 Sq.Km offers boating and fishing facilities making it an ideal place to float on water with your family and loved ones.
Kalyaneshwari Temple near Maithon
A few kilometers from the Maithon Dam towards West Bengal side is a 500 hundred year old ancient temple named Kalyaneswari. The temple of Goddess Kalyaneshwari (an incarnation of Shakti) is believed to fulfill the wishes of childless women and hence frequented by childless women in large numbers to fulfill their wish of having a child.
How to reach Maithon?
There are various options available for reaching Maithon.
Barakar Railway Station at a distance of about 8 Km from Maithon is the nearest railhead. From the railway station one can reach Maithon dam by hiring a Auto Rickshaw or a private vehicle or a shared vehicle.
One also has the option of reaching Maithon by bus. Regular bus services ply to Maithon from Dhanbad, Asansol, Durgapur and Barakar.
Road Journey to Maithon from Durgapur
If you have your own vehicle you can reach Maithon in less than two hours from Durgapur. From Durgapur, take the NH 2 and move towards Asansol. Do not enter Asansol Town, take the Asansol Bye Pass and head towards Dhanbad. Just 200 mt before Barakar bridge, turn right and within 2 Km is the temple of Goddess Kalyaneshwari. From the temple the dam is just 5 Km and the road is good enough through small hill.
Where to stay at Maithon?
Staying options are limited. Staying at Majumdar Niwas on a natural island in the lake is a real lifetime experience. A foot bridge connects the island to the main land. For booking contact the Kolkata booking office at – 033-23332115.
Another good staying option is Shanti Niwas. For booking contact its Kolkata office at – 033-26530833.
Hotel Maithon is another descent staying option. For booking, contact at – 0341-2521405.
Forest Rest House (Bono Bungalow) is another good staying option. For booking, contact its Durgapur office at – 0343-2537229.
Likes
(

3

)
Dislikes
(

2

)