Nine serial explosions rocked the Mahabodhi Temple complex of Bodh Gaya in Bihar on Sunday morning. Police sources confirmed that the blasts took place in quick succession between 5.30 am and 6 am injuring at least five people, of which one is critical. The injured are being treated at the Anugrah Narain Magadh Medical College hospital.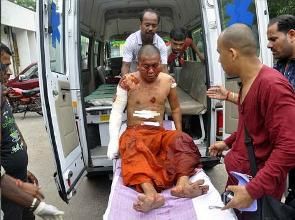 Four blasts took place inside the shrine premises, while another three blasts took place in the Turgey Monastery premises. The Turgey Monastery is the seat of the 17th Karmapa, the second most important spiritual leader of the Buddhists. While one each were triggered near the famous 80-feet-tall Buddha statue and a bus parked on the Sujata bypass. The police said two live bombs were defused in the town and a third in a village nearby.
One of the blasts took place just under the enlightenment tree causing partial damage to the Buddha footprints in the shrine premises. "The holy Bodhi tree is safe and there is no damage to it," said Bihar director general of police Abhayanand. The secretary of the Bodh Gaya committee Dorji said, "There were four blasts inside the temple premises. Fortunately, there was no damage to the Bodhi Tree or the main temple structure."


Cops sealed the entry routes to the shrine immediately after the blast. The shrine has been closed for general public but the prayers continued as usual. The National Investigation Agency (NIA) rushed a team from Kolkata to the blast site to monitor the situation.
Buddhists from all over the world visit the Mahabodhi Temple, which has the Bodhi tree, under which Buddha is said to have attained enlightenment. A total of 52 countries have established their monasteries here.
According to reports, intelligence inputs had been given to the state government about a possible threat to the Mahabodhi temple, following which the security was stepped up in the area. The intelligence inputs had warned of a possible attack on Buddhists in India in the wake of developments in Myanmar. Bodh Gaya has been in the crosshairs of Pakistan-based terrorists who want to avenge the violence against Rohingya Muslims in Buddhist-dominated Myanmar.
S K Bharadwaj, ADG (Law and Order) of Bihar, said, "We got information about six-seven months back that there may be a terror attack on the Mahabodhi temple. After that we had beefed up secuirty and deployed extra forces".
Meanwhile, Prime Minister Manmohan Singh strongly condemned the blasts, saying, "Our composite culture and traditions teach us respect for all religions and such attacks on religious places will never be tolerated."
"The serial blasts deserve strongest condemnation in strongest possible words as the perpetrators targeted the place of religious faith of crores of people with an aim to create fear among them," said Bihar Chief Minister Nitish Kumar after inspecting the blast sites at the Mahabodhi temple and surrounding areas with senior civil and police officials.
Likes
(

0

)
Dislikes
(

0

)