Getting confirmed tatkal rail ticket from IRCTC site is no less than winning a gold medal. Either you will have to rely on touts and pay hefty extra money or will have to stand in queues for hours and hours and after all this you must have your luck to get a confirmed tatkal rail ticket. In Durgapur touts and agents charges in the range of Rs 400 to Rs 600 extra per ticket depending upon the train and month of journey.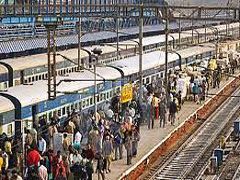 But for those who have access to internet and have a debit or credit card, getting a confirmed tatkal rail ticket is not at all that much difficult if the tips mentioned below are appropriately followed. And as presently many of the people of Durgapur are internet savvy, so booking his or her own tatkal rail ticket without paying a penny extra to the agents will definitely make a sense.
Daily thousands of needy people use IRCTC in the morning to get a tatkal ticket but a large percentage of them never got the success. The main reason of the failure of getting the tatkal ticket is either you were just 1-2 minutes late or the window says "session expired". Here are some of the most effective tips and tools that increases the chance of getting a tatkal rail ticket by more than 90 percentage. It's amazing and most affective as. Try it for yourself and let others know it as well.
Get Multiple IRCTC account
For this, you need to have at least 3 IRCTC accounts. Either you can create this or get the account of your friend and relative. You need to have different internet browser in your PC to open different account in different browser. You can install Internet Explorer (IE), Mozilla Firefox & Google Chrome.
You have to login to all different IRCTC account from different browsers. You can not login to different account in the same browser. So open one account in IE, one in Firefox & other in Chrome.
This is because if there is problem in one browser, you can immediately use another logged in account. This is confirmed that if you have problem in the booking process in one browser, it will work in other browser as per my experience.
Match the time of your PC with IRCTC
Next thing you have to do is match the time with that of IRCTC. To check IRCTC time, just visit this link http://www.indianrail.gov.in/train_Schedule.html and get the schedule by entering any train number (or use 12833). Now scroll down to the bottom of the page in the next window and check there IRCTC time. And then match it with your PC.
Get Magic Autofill
Most of your time in the booking process goes in filling the passenger details form and saving here even 5 seconds can make a difference and this is where this Magic Autofill play the role. This is one of the best auto filling form developed by one and only Amit Agarwal.
It's a simple online tool that will fill the passenger details form on the IRCTC website with the click of a button thus giving you an upper hand as far as time savings is concerned.
Just check how the tool works. Visit ctrlq.org/irctc around 10 to 15 minutes prior to the opening of the booking window and complete the form i.e. at around 7.45 am. It's an almost exact replica of the form that's available on the Indian Railways website. Once you've filled the passenger details, hit I'm Feeling Lucky and the tool will generate a Magic Autofill button that you need to drag to your bookmarks toolbar.
Now at 8 am when you start the booking process and come to the passenger details form click on Magic Autofill button and within a second all the details will be filled automatically. It's really magic. You save quite a few minutes as you don't have to type each and every passenger's name and details. The time thus gained puts you in a much better position in getting a confirmed tatkal rail ticket. Now you complete other formalities like payment and get your ticket.
Get your details ready
This is very important as sometime you just forget the train details or sometime you get confuse which payment methods to choose when there is no time to think all these things. So just open a notepad, write all the details in advance like source train & destination train, credit card details or bank details with password. You have already filled the passenger details in the magic autofill and bookmarked the button.
Write every details in that notepad that you are going to fill in the booking process so that you just copy and paste that detail. It can save your at least 1 minute and here every second counts in tatkal ticket booking.
This way you can really increase your chances of booking a tatkal ticket. I have many times used this tip and more than 95% time I was successful in booking a tatkal ticket.
Likes
(

3

)
Dislikes
(

0

)